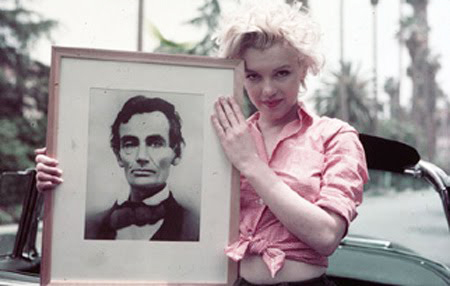 Father Lincoln, Marilyn Monroe forever linked
Father Lincoln, Marilyn Monroe forever linked
By Don Radebaugh — When I was 10 years old, I shut myself up in my room and read a children's biography on Abraham Lincoln. I never got over it, and I've been fascinated with America's 16th President ever since. Something similar happened to Norma Jeane Baker — AKA Marilyn Monroe — along the way too. And it happened well before millions came to adore her on the Silver Screen.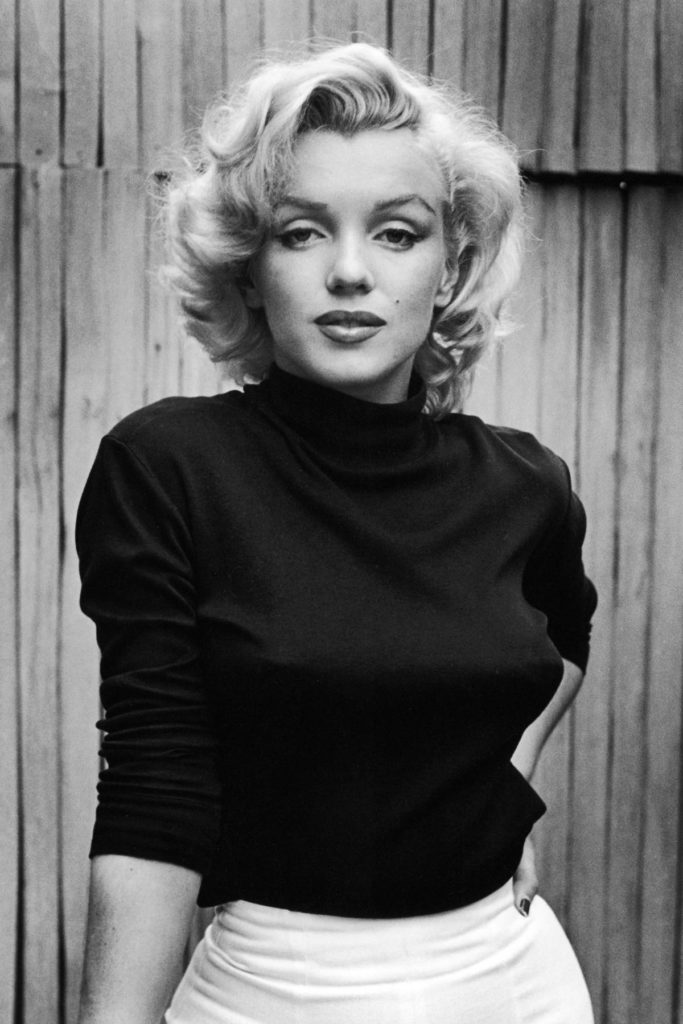 As it turns out, the Hollywood superstar was way more than a bombshell beauty from southern California…she had brains too. The stereotypical "dumb blonde" did not apply.
And so it goes with those who get hooked on Lincoln…once the fascination takes hold and grows roots, you're in for the long haul. I was just a boy when it happened to me. Hard to say exactly when it happened for Marilyn, but we do know that when she was 15 years old, in her final year at Emerson Junior High in Los Angeles, she wrote a paper on Lincoln that was graded best in her class.
"This seemingly small achievement was a great boost for Norma Jeane's confidence," wrote biographer Michelle Morgan, "and suddenly the child didn't seem so dumb anymore."
When it happened for her really doesn't matter; we know that Lincoln was an insatiable interest she took to her grave. In fact it was way more than a passing interest; Monroe considered Lincoln somewhere in the father-figure category.
Born in 1926, Norma Jeane Baker never knew her real father, although she spent years trying to find him. Her mother, Gladys Mortensen, spent much of her later life under psychiatric care, while Norma Jeane bounced around between foster homes. It's not hard to figure out why she searched out a father-figure to help her through the hard times. Fortunately, she found one in Abraham Lincoln. Good choice Marilyn. I mean, he did play a major-league part in saving the Union, for starters. Getting the 13th Amendment pushed through Congress and signed (by the President) in the nick of time before Booth took his life is certainly commendable.
"Most people can admire their fathers, but I never had one. I need someone to admire. My father is Abraham Lincoln…I mean I think of Lincoln as my father. He was wise and kind and good. He is my ideal, Lincoln. I love him." – Marilyn Monroe
She not only loved him, she was a lifelong student of Lincoln and read Carl Sandburg, a renowned Lincoln biographer from Galesburg, Illinois. And when she had the opportunity to meet Sandburg, she struck up a friendship with him during the late 1950s. Photographer Len Steckler chronicled a meeting between Monroe and Sandburg at his New York apartment in late 1961.
"Marilyn was three hours late, but had an excuse. She had been at the hairdresser, trying to get her hair color to match Carl's."
Sandburg, by then in his 80s, spoke warmly of Marilyn. "She was not the usual movie idol," he remembered. "There was something democratic about her. She was the type who would join in and wash the dishes even if you didn't ask her. She spoke well on the national scene, the Hollywood scene and on people who are good to know and people who ain't…there were no pretenses about Marilyn Monroe."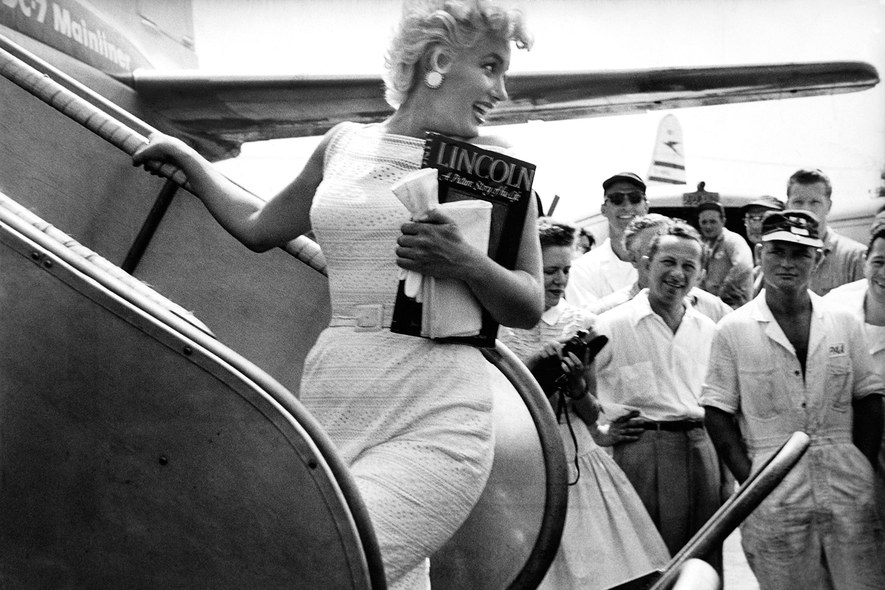 One can only imagine the media stir it created when, in 1955, Monroe, while on suspension from her studio, made one of the most unlikely public appearances in the tiny town of Bement, Illinois…population about 1500, give or take. Photographer Eve Arnold wrote, "In the crook of her arm was a large hardback book of Carl Sandburg's about Abraham Lincoln."
Now…the town of Bement was certainly not a hotspot for Lincoln…it was a place he traveled through to get from here to there when he was a lawyer on the Eighth Judicial Circuit. The small town's greatest claim to fame among Lincoln Lore was a meeting on July 29, 1858 between Senator Stephen Douglas and Lincoln to arrange details regarding the seven Lincoln-Douglas debates that followed later that year. Only the most astute students of Lincoln would have known that to begin with. Monroe was all over it.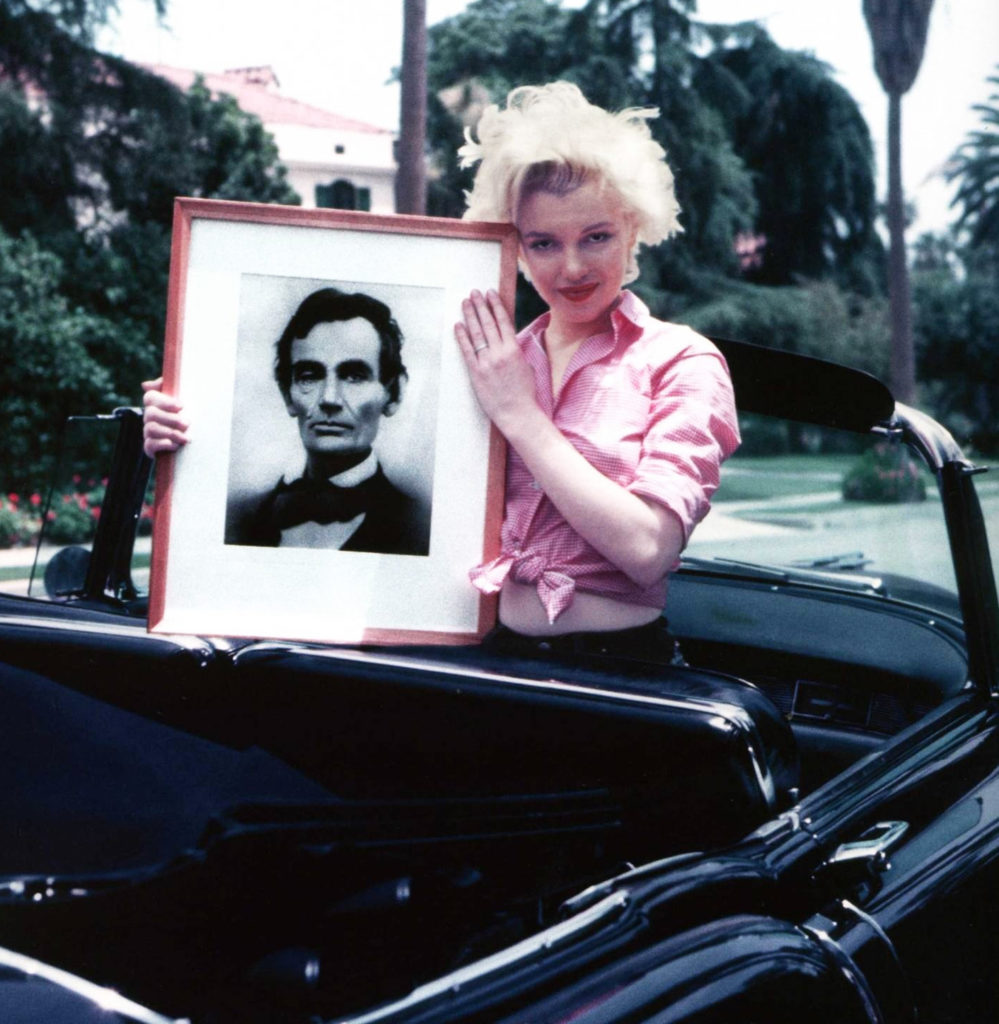 Monroe was 28 in 1954 when she stood in the black Cadillac to pose with a photo of her "father". The car was given to her as payment for a television appearance. While her outwardly affection for Lincoln may seem out of the ordinary for most, for Monroe it was the norm. She was, in fact, known to travel with a photo of Lincoln wherever she went.
It wasn't just pictures of Lincoln that fascinated her; she was an avid reader, and according to her columnist friend, Sidney Skolsky, collected books about Lincoln. She also bought a lithograph of him — same image as the cover photo — which she hung above her bed. A smaller, framed picture was reportedly kept on her bedside table, alongside her mother's portrait.
"The truth was that I was afraid everybody would laugh themselves to death at the thought of me having a crush on such a famous President. But I truly adored Abraham Lincoln. I used to have dreams that I was his illegitimate great-granddaughter. Before it was over, I let him (Milton Greene/business partner) talk me into taking a picture with my great-grandfather in my Cadillac car."
Monroe was by no means an overnight success. In her early years in Hollywood, she experienced crushing rejection, exploitation and loneliness, often seeking out people who shared similar interests.
"I became a friend of Bill Cox and his wife," Marilyn wrote in her 1954 memoir, My Story. "He talked chiefly about the Spanish-American War in which he had been a soldier, and Abraham Lincoln. He told me the life of Abraham Lincoln from his birth onward."
While Lincoln has always been a worldwide phenomenon, for a Hollywood superstar in the 1950s to have an open love for Lincoln would have been exceptionally rare. Marilyn certainly did not try and hide her fascination with Lincoln…in fact, just the opposite…she was proud of it.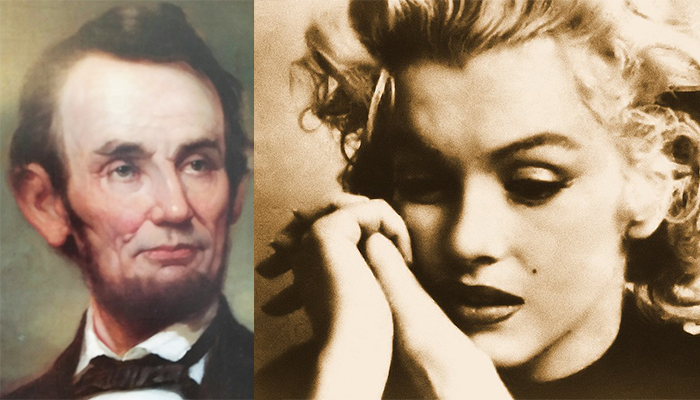 For me, her interest in Lincoln indicates just how bright and brave she was. Her choice in "fathers" was not only admirable…it was downright smart. Looking back on her troubled journey, I would bet my last bottom dollar that Lincoln provided her more comfort, stability and life lessons than anyone she ever knew during her time on earth.
"And it seems to me, you lived your life like a candle in the wind, never knowing who to cling to when the rain set it."
At least she could "cling to" the father she adored, and often did.
Marilyn Monroe died at the age of 36 on August 4, 1962. She was discovered in bed by her housekeeper, having reportedly taken a massive overdose of barbiturates. In her final moments, I have faith that thoughts of her "father" traveled back through her mind and helped soothe some of the pain before she drifted off. And if souls can be reunited with loved ones in death, then rest-assured, Marilyn Monroe moves with Abraham Lincoln in the same divine channel. Lincoln, who had four sons and no daughters, would no doubt welcome the addition of the adorable Norma Jeane Baker…Daddy's little girl.
"You had the grace to hold yourself, while those around you crawled."
Sources: ImmortalMarilyn.com
Marilyn Monroe quotes: From a book published in 1980 titled, Of Women and Their Elegance, a book of Milton Greene's portraits, with text by author Norman Mailer.
@Don Radebaugh
Google+