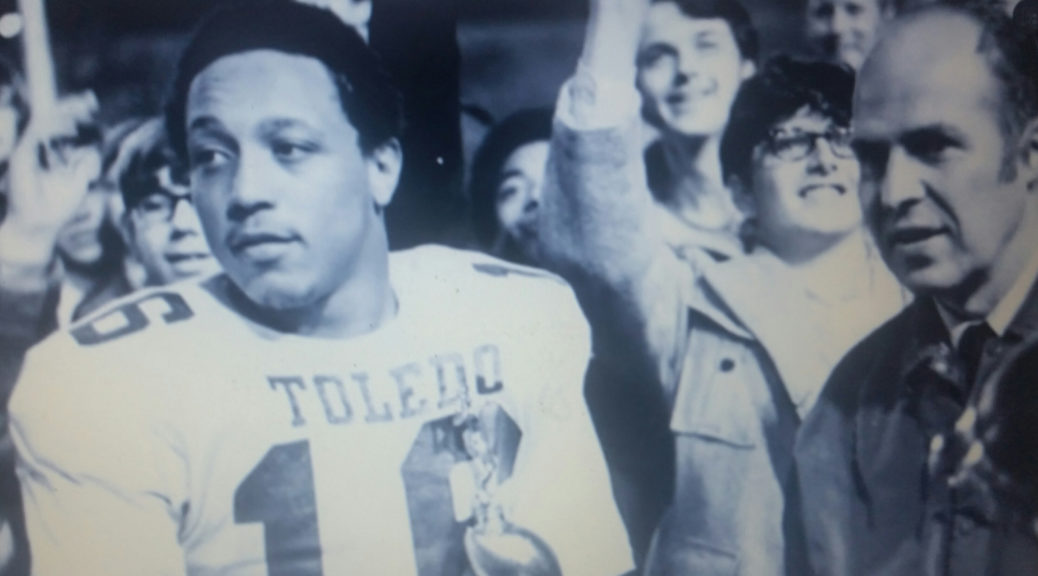 Three cheers for sweet 16, the Chuck Ealey story…
Three cheers for sweet 16, the Chuck Ealey story…
By Don Radebaugh  — Who wants to be a millionaire? Any takers? If the answer's yes, then write the script for one of the greatest, yet relatively untold sports stories in American history. Actually, the script is nearly written; in fact the hard part's already done…done by the real life players who brought the true story to life. All you have to do is arrange the words in such a way that would turn it into the major motion picture it could be, and should be.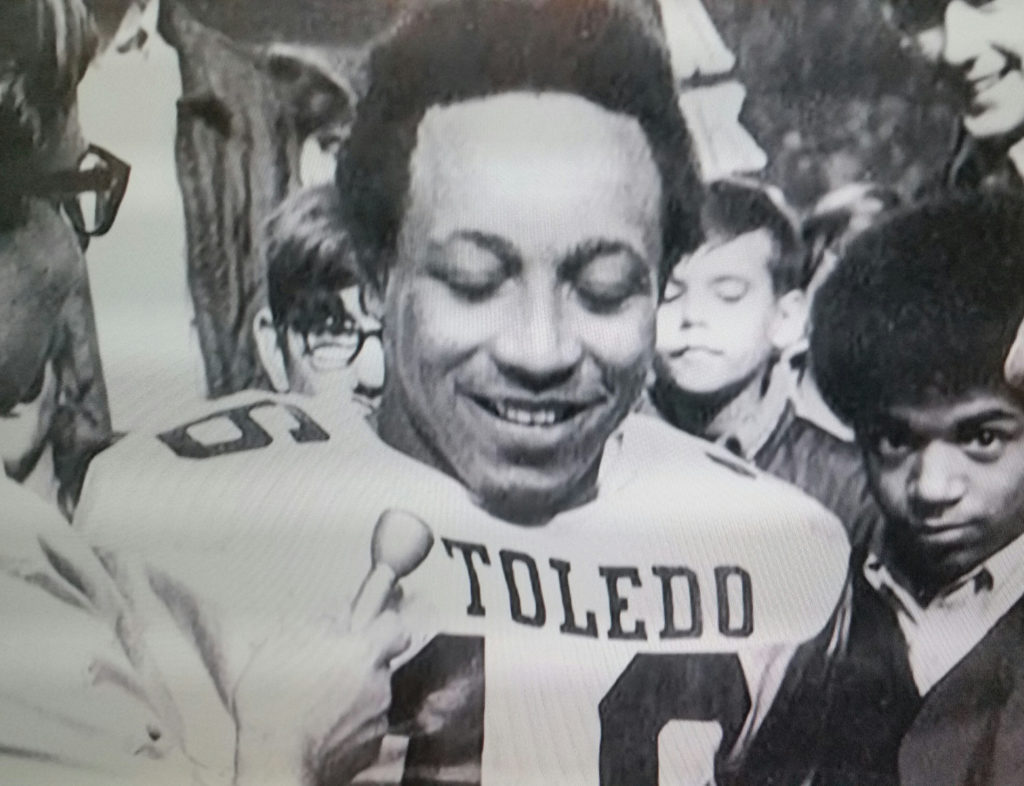 It's a story worth telling…a story about guts, gratitude, determination, inspiration, discipline, perseverance, passion, leadership, integrity, humility, heartache, spirit and hard work blended together in a recipe, the likes of which, we may never see again. It's a story that resonates across party lines and racial divides, engages our collective spirits and leaves us yearning for more.
The story of Chuck Ealey is beyond incredible. One of the greatest quarterbacks to ever play the game, his collegiate record still stands 45-plus years later. If he were coming through the ranks today, he would be the perfect candidate for the National Football League (NFL), but for reasons not quite clear, there were no draft picks for Ealey for the 1972 season. So Ealey went to the Canadian Football League (CFL) to play out his professional career. The CFL, wisely, was more than happy to recruit Ealey, who would, in turn, take the Hamilton Tiger-Cats to the Grey Cup his first year on the job.
From the projects in Portsmouth, Ohio to winner and champion across the board, Ealey's journey in between could fill volumes.
Ealey came into the world on January 6, 1950. Fortunately he got the love and support he needed from his mother growing up, but Ealey had very little memory of his father, who checked out on his family early on.
"I don't even recall my dad being in the same house with me," said Ealey in a documentary that aired on a local PBS station in Toledo, Ohio.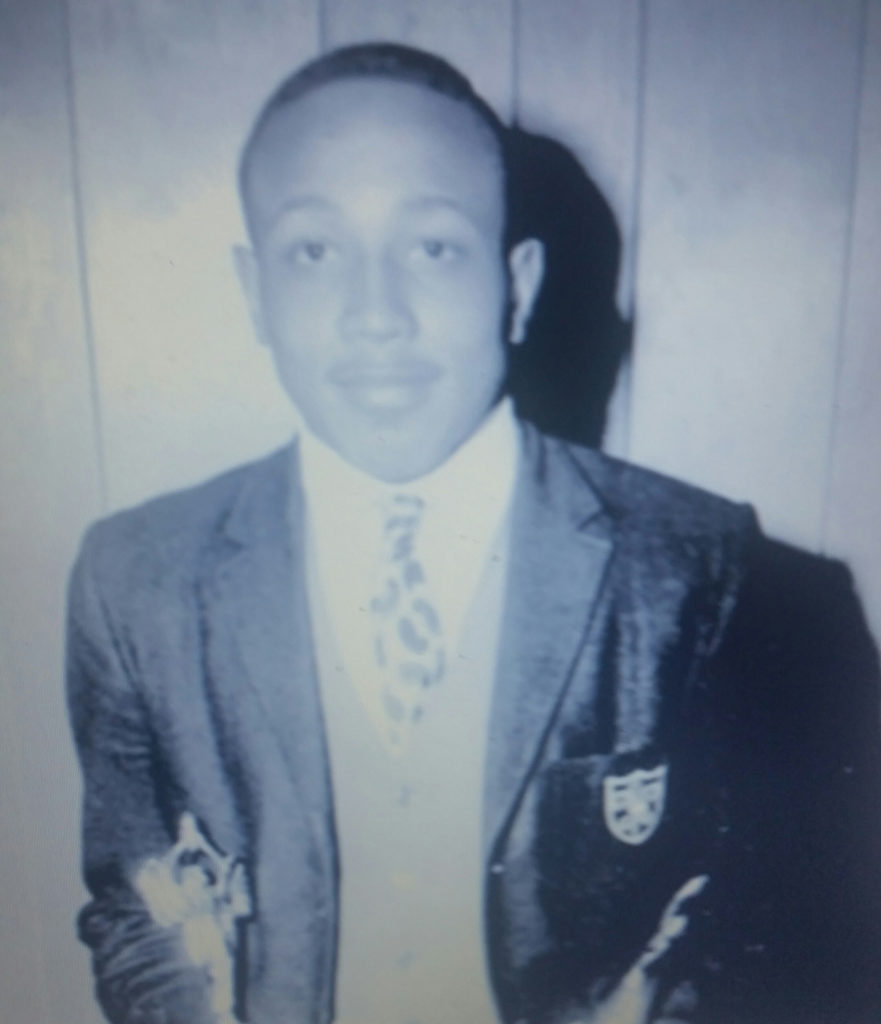 His mother, who had no education beyond the 8th grade, worked multiple jobs as a cleaning lady to provide as best as she could. If poverty was a less than ideal environment, Ealey learned early on that athletics, combined with education, could be his ticket to a better life. Fortunately, his mother believed in education and encouraged her son every step of the way.
From the playground to the grid iron, Ealey played football. By the time he went to high school — Notre Dame High School in Portsmouth — he was a well-conditioned athlete. His high school football head coach, Ed Miller, recognized his potential.
"We recognized his ability and he didn't let us down," said Miller. "When he walked on the field, he was in charge."
Indeed he was "in charge" as reflected on scoreboards across the league. When it was all said and done, Ealey led his high school team to a perfect 27-0 record over three seasons and the state championship his senior year. He never lost a game as a starting quarterback. The lessons he learned in discipline along the way would pay big dividends in the years to come.
"In many ways, Coach Miller was like the father that wasn't in my household. He taught me discipline," Ealey said.
By now, it was clear that Ealey had a gift, and he aimed to utilize it at the next level. But if the NFL couldn't envision a black quarterback, apparently neither could most of the universities he visited. Ealey thought he was headed to one of the schools closer by…the University of Ohio, the University of Dayton, or perhaps Miami University. The legendary Bo Schembechler was Miami's head coach in 1968.
Schembechler would only offer a partial scholarship, and only if he came in as third quarterback or, preferably, defensive back. Ealey turned Schembechler down, making the choice then and there that he would accept nothing less than quarterback.
The coach from the University of Ohio also came down. He didn't come back. No matter…Ealey would eventually get the last word.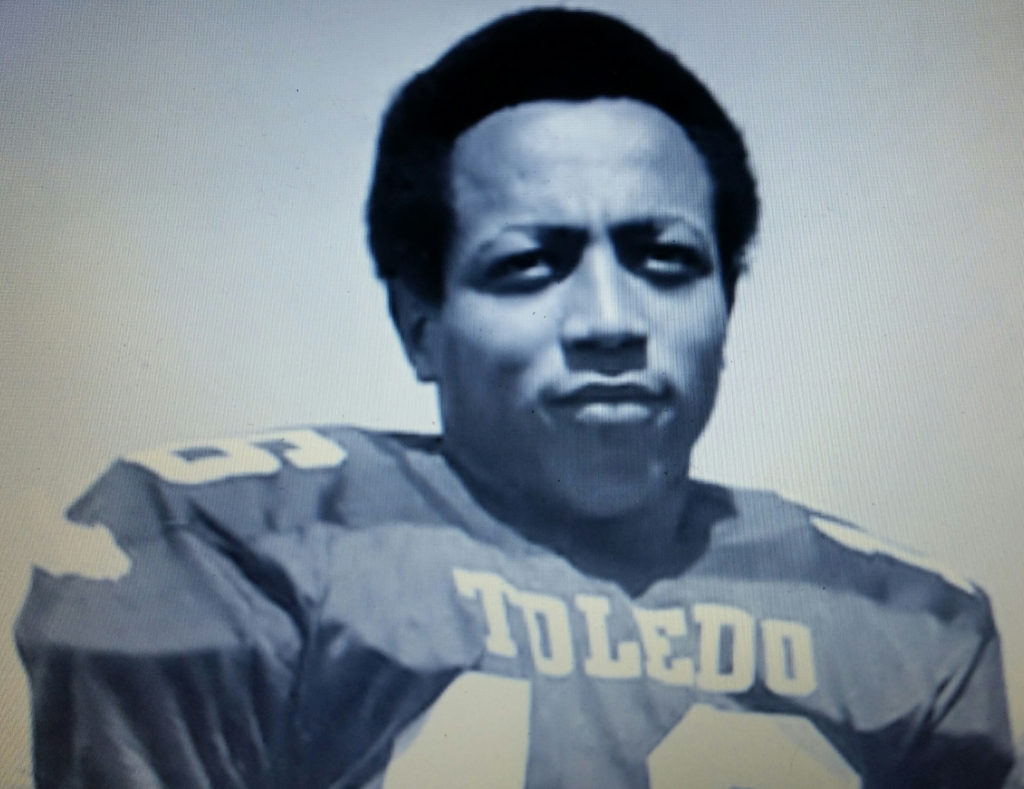 Enter the University of Toledo (UT). As history played out, head coach Frank Lauterbur sent an assistant down in time to see Ealey play in his final high school basketball home game. Ealey nailed a shot in the final seconds to win the game. On that note, Lauterbur chose to push "play."
"Next stop I went to after Dayton was Toledo," Ealey said. "As soon as Frank said, 'I'll give you a full scholarship and a full chance to be a starting quarterback,' I said, give me the paper."
Ealey signed then and there on the dotted line. It was 1968. If Ealey's future seemed more certain, America's was anything but. The Vietnam War was raging in Asia, while the Civil Rights war was being fought on the home front; Dr. Martin Luther King had been assassinated in early April. Two months later, presidential candidate Robert Kennedy would also die from an assassin's bullet. And in those uncertain times, Ealey donned a UT helmet for the first time. With no guarantee, he went to work during his freshman year to earn what he had sought, a starting position as quarterback.
His exceptional work ethic, determination and persistence paid off when he opened the 1969 season as starting quarterback against Villanova. Ealey picked up right where he left off in high school and led the Rockets to an impressive 45-18 victory in his debut. In the first three games combined, Ealey racked up 117 points to his opponents accumulative 40. Ohio University, which turned Ealey down, went down 34-9.
Arch rival Bowling Green State University, next in the order, proved to be a bigger test for the Rockets. On a brutally cold, blustery day in Bowling Green, Ohio, the Rockets were down 24-26 with less than two minutes remaining. Ealey would get one more shot over a final drive, albeit against an exceptionally strong headwind. Ealey marched the offense all the way to BG's 20 yard line, but the required field goal with one second left on the clock against a 30-plus mph wind seemed insurmountable.
Call it a miracle; call it divine intervention; call it whatever you want, but at that precise moment when the ball went up, the wind stopped. The ball sailed through the uprights…UT won by a point.
"At that time…at that point, that became my team," Ealey said.
From that point on, Ealey had the attention of Toledo. If Rockets fans were not among the big crowds that came out to see Ealey at the Glass Bowl, Toledoans on the go had their transistor radios blaring with the live play-by-play commentary from WSPD's Jerry Keil.
After the Rockets soldiered through another close game with Miami of Ohio, winning 14-10, they sailed through the rest of the season, winning the Mid-American Conference (MAC) and the Tangerine Bowl. With the '69 season in the record books, Ealey was a perfect 11-0 as a starting quarterback for the Rockets.
The 1970 season came with a new look against powerhouse opponents E. Carolina, Northern Illinois, Buffalo and Colorado State. It didn't matter…Ealey and the Toledo Rockets closed out another year undefeated, winning its second straight MAC title and earning another trip to the Tangerine Bowl, this time against Lou Holtz's College of William and Mary. Toledo pummeled Holtz's team, winning 40-12.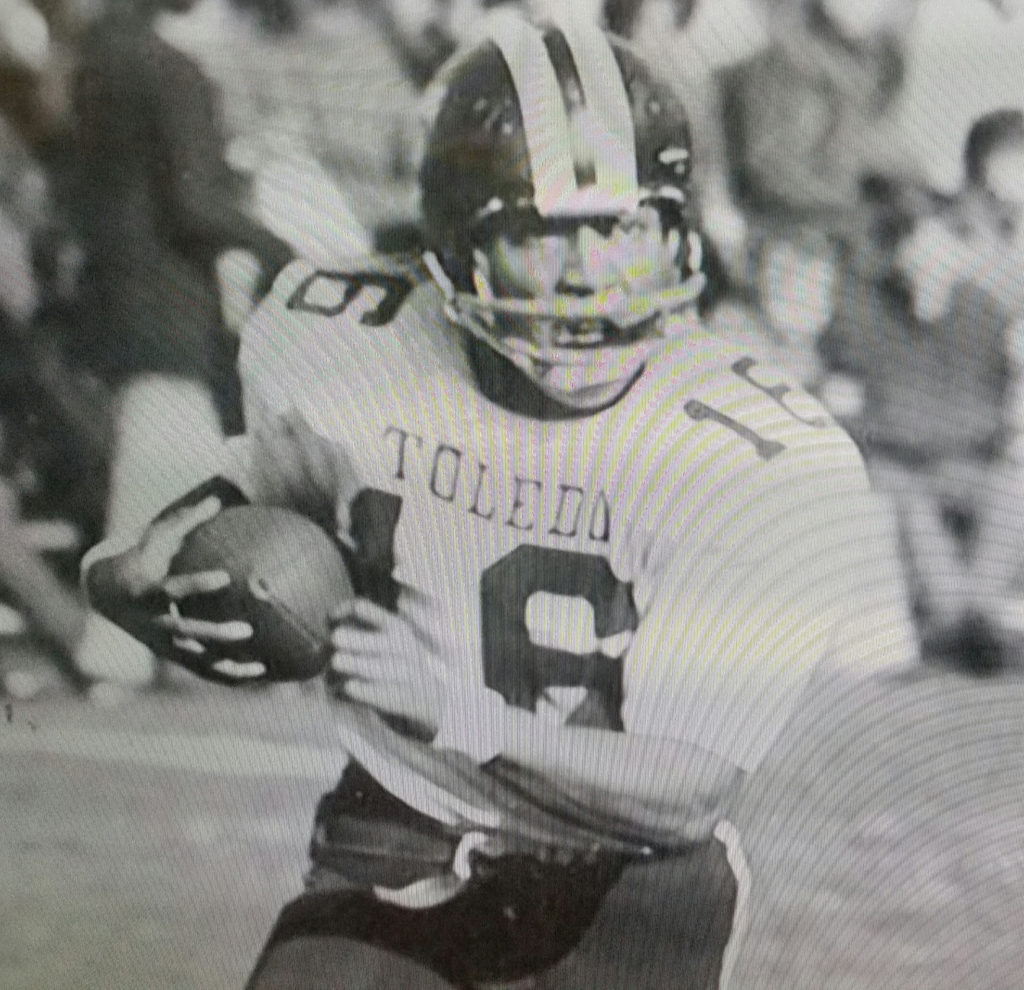 "Chuck Ealey was the heart and soul…he just made things happen," said Holtz. "I've never seen anybody that dominated opponents like he did on a continuous basis, and the only guy to win 35 games in a row as starting quarterback. There's a reason for that."
The 1971 season was a repeat of the two previous…a perfect record, a third MAC championship and another trip to the Tangerine Bowl, beating Richmond handily, 28-3.
And just like that, it was over, but not before Ealey went 35-0 for the length of his career as a starting quarterback. No other human before Ealey, or since, has matched or surpassed his undefeated record. There were a few close games to be sure, but most were lopsided blowouts against astonished opponents who walked off scratching their heads. To be complete, it's worth noting that Ealey had the top-ranked defense in the nation to work with all three years, and the team ranked as high as 12th in the nation.
In addition, he was MAC Player of the Year all three years and voted First Team All-American. Ealey also finished 8th in the Heisman balloting his senior year. While an honor to be in the running, it seems college football's most prestigious award wasn't ready for a black quarterback either.
No matter, Ealey still had a professional career in the NFL to look forward to. At the time, there were 17 rounds in the NFL draft. Ealey was a shoe-in. Surely, based on what he had just done, something no one had ever done, his ticket to the NFL was secure, right? Wrong. After a whopping 442 draft picks, a collective jaw dropped across Toledo when Ealey was not among those picked in the NFL draft. For so many, it was inconceivable that Ealey wasn't considered quarterback material in the NFL.
Whether Ealey was not drafted because he is black remains an open question. The book, "The Stone Thrower", authored by Ealey's daughter Jael Ealey Richardson, reveals a story about a letter that may have affected the draft that '72 season. On the advice of an agent, a letter was sent to every NFL team stating Ealey's desire to come into the NFL only as a quarterback.
"Twenty-six NFL teams rejected my father in 1972 not because he was black but because of the only thing that set him apart from Joe Gilliam back then. They rejected him because of his letter. The way my father asserted himself was reprehensible to the white men running professional football teams across the country."
Gilliam, by the way, was a black quarterback selected in the 11th round by the Pittsburgh Steelers in 1972, becoming the first black man drafted as a quarterback by the National Football League, the same year Ealey was rejected. A drug addiction ultimately ruined Gillam's short-lived career.
As some sort of consolation prize, Ealey did get a couple calls, one from Denver and another from Kansas City, but it wasn't for quarterback, but the possibility of becoming a defensive back. Unfortunately, there was a stigma placed on black quarterbacks…that they couldn't intellectually compete in the NFL. Different story today, but not back then. Nonetheless, Ealey answered the NFL.
"I did not want anything else but quarterback," Ealey said. "Because I felt that what I needed and wanted I had with my education and my degree. And if that meant that I didn't have to play, couldn't play, wouldn't play, that was okay believe it or not; but I wasn't going to go into the NFL as a defensive back."
Comfortable in his own skin and confident with his own decisions, the indomitable all-star athlete had the courage to write his own script, with or without the NFL.
"That being said, I was neither hostile at the NFL or what. I just took it as what it was and I had to do something different. I feel very fortunate that the training that my mother gave me…about being respectful in all situations and being able to be disciplined as my coach taught me…to just keep moving on."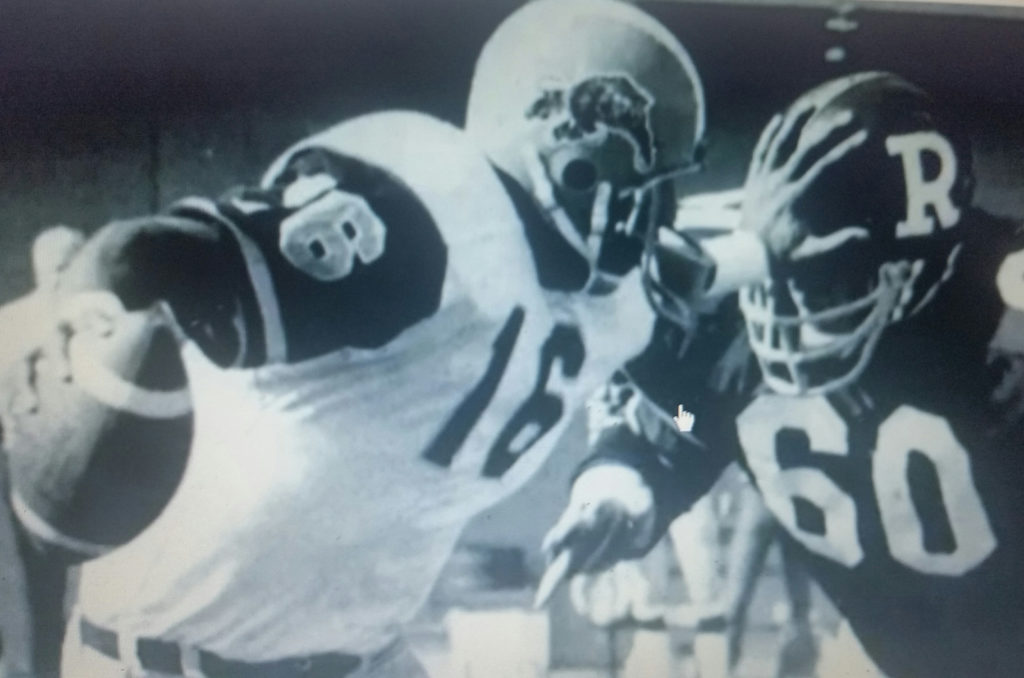 And that's exactly what Ealey did. If the NFL had no room for Ealey, the CFL was glad to get an all-star from the University of Toledo. The Hamilton Tiger-Cats signed Ealey for the '72 season. Ironically, Ealey lost his first game in the CFL, but turned it around and orchestrated 11 straight victories, ultimately winning the Grey Cup in his first year, the CFL's version of the Super Bowl. Ealey put up 291 yards passing and rushed for 63 yards in the championship game. As one might expect, he was voted Most Outstanding Rookie Player of the '72 season. No surprise, but still amazing nonetheless.
Ealey played seven seasons total in the CFL, accumulating more than 13,000 yards passing and 82 touchdowns before settling down with his wife — his college sweetheart from UT — and three children and grandchildren in a Toronto suburb where they still live today.
After some injuries and trades, Ealey knew, in his seventh season, it was time to walk away from the game. In classic Ealey style, he hung up his helmet on his own terms.
"Okay it's time. I think it's over. I felt very good about it…that I could walk away from the game versus being pushed away."
His family became his new focus…his new team.
"Everything's a team to me. Family's a team…sport's is a team…business work is a team, and if we get all these teams working and functioning together, we'd have a better society."
His kids and grandkids still wear the No. 16 Toledo jerseys, proud of their father and grandfather as they have every right to be. They know their dad's a winner. And now you know too. The epitome of character, integrity and respect, he just keeps on winning.
"Chuck Ealey was born to be great, and that's what he is," Coach Lauterbur said.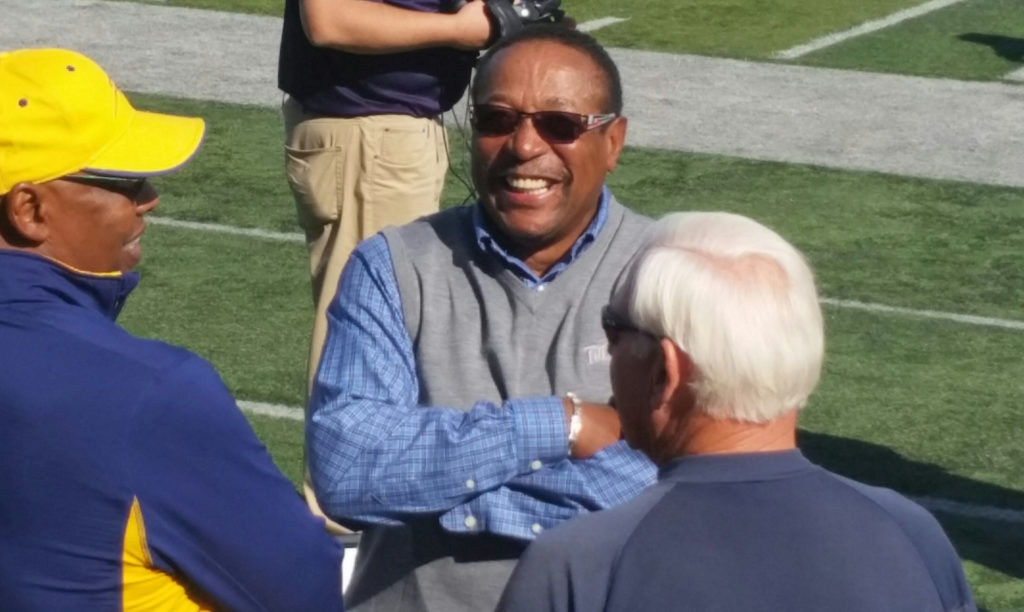 Maybe Holtz said it best.
"Chuck Ealey always showed respect…showed respect for the game, respect for his teammates, respect for his family, respect for his opponents."
Editor's Notes: If I ever had an inclination to adorn my wall at home with a sports hero, it would be an image, preferably signed, of Chuck Ealey. I can think of no better person, in sports or outside sports, to reflect all that I admire in humans. Integrity = Ealey.
And whether they know it or not, every black quarterback in the NFL today owes a share of gratitude to Chuck Ealey, the only undefeated quarterback in collegiate football history, the proven winner who could have, and should have gone straight away to NFL fame and glory he so richly earned and deserved, not to mention the financial rewards that would have come with it. In a taste of sweet irony, the NFL lost and Chuck Ealey won without ever throwing a pass in the National Football League. Our thanks and appreciation to the CFL for recognizing what their NFL counterparts refused to acknowledge.
And a tip of the hat to the University of  Toledo for its forward thinking vision, which took a chance on a poor, black kid from the projects of Portsmouth, Ohio. #GoRockets.
@DonRadebaugh on Twitter, or please like my Facebook Fan Page.
Sources:
WGTE's (Toledo, Ohio) PBS documentary "Undefeated: The Chuck Ealey Story".
"The Stone Thrower", by Jael Ealey Richardson, Copyright 2012
Google+