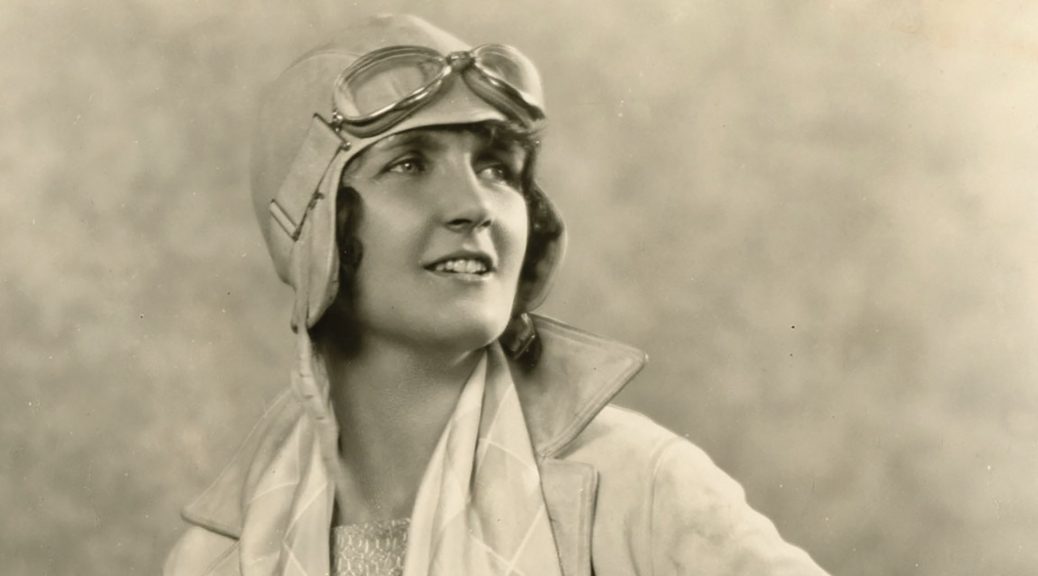 Meet the amazing Miss Nichols, world-record aviator in a Crosley
Meet the amazing Miss Nichols, world-record aviator in a Crosley
LOUISVILLE, Ky. (Feb. 23, 2019) — Powel Crosley certainly earned his place among the industrial giants of the 20th century. From mass production of radios, cars, home appliances and smart bombs for World War II; to creating the most powerful radio broadcast station in the world; to ownership of the Cincinnati Reds; his place in American history is secure.
Yet there is still more to the man and his legacy. While he was becoming the largest radio producer in the world, he was also building airplanes. If he wasn't building them, he was buying them. For his personal use, he bought a Lockheed in the summer of 1930 for $15,000. Then he spent $10 grand more for modifications. Like everything he bought, he paid cash. He named his new plane the New Cincinnati. Proud of his new bright-red, seven-passenger flyer, he could now get to Indianapolis from Cincinnati in just 43 minutes.
Enter female aviator Ruth Nichols (cover photo), who also admired Crosley's new Lockheed cruiser. The native New Yorker had something else in mind too. She wanted to be the first female pilot to make a trans-Atlantic flight. Crosley's new plane would be the perfect way to secure her place in history.
Knowing that her rivals — record-setting pilots Louise Thaden and Amelia Earhart had the same aspirations — Nichols decided it was time to move. During a chance meeting with Crosley in Cincinnati in October of 1930, she pressed her case.
In her own meticulous and patient way, she had already typed out her plans.

"Object," she wrote. "To show that a trans-Atlantic or Around-the-World Flight can be made commercially safe."

"Time: To be stated as soon as the equipment can be purchased."

"Crew: Miss Nichols, as organizer and pilot of the ship."
After mulling it around in her head for years, her patience was running thin. She had lofty dreams and goals, and Crosley presented an opportunity she could not pass up. She also knew that there could be enormous financial rewards that would accompany the adventure…book deals, endorsements, newspaper and magazine contracts, lecture tours and a motion-picture contract, the sum total from which would cover her costs and put money in the bank to boot.
But she needed investors, no simple task at the onset of the Great Depression. Mostly, no one was listening, no one except Powel Crosley. And if Crosley would trust her with his own flying machine, she could cement her place in history, as Crosley had already done, and was still doing.
"Have had eight years flying experience," she wired Crosley. "Last year solo toured in 46 states without a scratch. Would very much like to pick up your ship on my way east."
Crosley, sensing the potential of saddling up alongside her imminent fame, agreed to let her borrow his plane. After years of waiting and watching—passed by, overlooked, and underestimated—Nichols, about to celebrate her 30th birthday, finally had a plane capable of setting records like Earhart and Thaden. On November 19, 1930, she climbed into Crosley's plane, left Cincinnati, and headed home to New York.
She quickly discovered that the Lockheed's engine was powerful way beyond anything she had ever felt. Despite a complicated instrument panel she was not familiar with, the day was clear, so she pressed on.
All was good, that is until she ran into a bank of fog just across the Pennsylvania state line, with the Allegheny Mountains all around. Unable to navigate below it and unwilling to turn around or go through it for fear of plowing into a mountain, Nichols opted for a forced landing in Crosley's brand-new plane. She came down in a rocky field, plowed through a wire fence and drove the propeller into the ground, coming to a stop. Nichols was uninjured and most certainly wondered what Powel Crosley would think of her now. But, in the immediate aftermath, she did the only thing she could — wander off and look for help.
Nichols had landed in the tiny settlement of Manns Choice, Pennsylvania. Male reporters bent on getting their digs in called it Man's Choice. Nichols found a general store and called the only person she knew in the area, her rival Louise Thaden, who was at home in Pittsburgh with her new-born son.
Thaden put Nichols up for the night at her home in Pittsburgh, drove her back to Manns Choice a day later, and stayed with her there overnight until her plane was repaired. By that Saturday, three days after the forced landing, hundreds of people from neighboring communities were there to catch a glimpse of the women pilots and what probably seemed like a red spaceship from outer space. Nichols finally got off the ground that morning with a sizeable crowd looking on. With the embarrassing episode behind her, she soon found herself front and center in newspapers coast to coast. While Crosley could not have been pleased that his new plane had been crash-landed, he also couldn't help but notice his name accompanied her in stories across the country.
Just two weeks later, Nichols set a transcontinental speed record, flying from New York to Los Angeles with four overnight stops but a total elapsed flying time of just 16 hours, 59 and a half minutes, nearly nine hours faster than any other woman had previously flown and the second-fastest east-to-west cross-country trip ever completed. Nichols turned right around, flew back east, and set another record going in that direction—13 hours and 22 minutes, almost an hour and a half shorter than Charles Lindbergh's fastest transcontinental trip.
Meanwhile, Crosley was thrilled. Both pilot and plane were lauded by the press. Photos of the plane, with CROSLEY big and bold on the fuselage, appeared in dozens of newspapers across the country.
Then, a few months later, in March 1931, she climbed back into the red Lockheed in New Jersey. Weathering temperatures of minus 40 degrees and one-hundred mph winds that blew her out to sea, Nichols flew nearly six miles (nearly 30,000 feet) into the sky, yet another female record. When she landed, she sent out a telegram to Powel Crosley.
"Happy to advise both altimeters showed over 30,000 feet thus breaking in Crosley Radio plane both the women's altitude and also the world's record for men and women in commercial ships. Wish to express my deepest appreciation to Mr. Powel Crosley who made it possible. Ruth Nichols."
A month later, in Detroit, she claimed one more record, flying at a sustained 210 mph, almost 30 mph faster than the record Earhart had recently set in Los Angeles. In the span of just five months, she had proven herself to be arguably the fastest, bravest and strongest female flier in America. She did it all in Crosley's plane, and everyone knew it.
The cards and letters poured in. From the Crosley Radio Corporation: "What a gal—what a plane—what a record! Congratulations." From George Putnam's ex-wife, Dorothy, keenly following the women in the sky: "Hurray . . . You are doing marvelous things. Keep it up." Old friends got in touch with her. New friends heaped praise on her. A gracious Earhart sent Nichols roses, and total strangers sent questions about everything, including the color of the sky when seen from so high in the heavens. But she took great care in replying personally to one particular demographic: young girls. From the dozens of letters that came in from girls, Nichols sent them all autographs and advice.
In the spring of 1931, Crosley finally agreed to let Nichols fly his plane in the test she cherished most, her solo flight across the Atlantic.
Fearing other women would beat her to the punch, she sent out requests to her closest friends and family.
"I want to keep the matter entirely confidential," she told a close friend. "So, please, not a word of it." Nichols wasn't even telling her family about her plans for now. "As a matter of fact," she told one friend, "it might be well for you to destroy this letter."
Nichols also knew that if her dream was going to come true, she needed financial help. She called on moneyed New Yorkers, fellow pilots and the same benefactors who had helped Earhart.
Meanwhile, Crosley's Lockheed was being retrofitted for a supercharged 650-horsepower engine that would give her a cruising speed of 200 mph. She also had the support of prominent male fliers, most importantly, Clarence Chamberlin, the second man to ever fly the Atlantic. Chamberlin was personally helping Nichols prepare in New Jersey.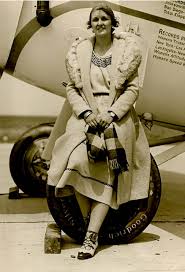 "All feel I am capable of making a flight from Newfoundland to Ireland or France," Nichols said. "If the winds are favorable, there is no possibility of failure," she told potential investors, "except the usual law of fate, which we meet every day of our lives."
Despite being in the midst of the Great Depression, her persistence paid off. Money began rolling in: $5,000 from Paramount Pictures; $5,000 from Columbia Broadcasting; $3,000 from her brother; $1,600 from one of Ruth Elder's former sponsors; and $1,000 from Crosley. Including the personal loan, she secured at the bank for $4,500, Nichols finally had enough cash to make the trip possible. But in order to pay off the loans—from the bank and from her friends and family—Nichols needed to make money too. For this, she turned to east coast businessman Hilton Railey, the man who had discovered Earhart.
"Early in May," Nichols told Railey, "I am determined to attempt a flight from St. John's, Newfoundland to Europe, with Paris as my actual objective." She wasn't seeking his advice. "My decision to make this flight is absolutely definite."
Railey didn't want the job. In short, he thought it was too risky and didn't want to be associated with the potential failure of the flight, or worse. Nichols was infuriated.
"All right," Nichols said. "Don't help me. If I were a man, you'd help me. But because I'm a girl, you turn me down," she said. "I'll sell my car and everything I've got to make this flight possible. Whether you help me or not, I'm going to make this flight."
Railey, admiring her persistence, finally agreed to take the job, for $13,500.
"Since I have not been able to dissuade you from the attempt," Railey told her, "I very earnestly want to help you."
Railey also believed she stood to make $215,000 from the endeavor, a life-changing amount, especially considering that America was in the grip of a worsening Depression, a Depression that included Nichols' family.
Fortunately, Railey started coming through with his promises, securing a book deal, two magazine contracts and an endorsement from a milk company. Railey was also gathering intelligence on other female aviators who might be considering a solo transatlantic flight that spring, and passing it along to Nichols.
Then the press began running stories about Nichols' alleged plans. And once the stories hit the papers, fans began writing Nichols with outrageous requests, including dozens of offers to accompany her on the flight.
Trying to stay focused on the task at hand, Nichols turned them all down. Nichols met regularly with transatlantic flier Clarence Chamberlin, who was directing the overhaul of Crosley's plane in New Jersey. She took notes on blind navigation, ran calculations figuring speed and time and made a list of everything she needed to bring with her.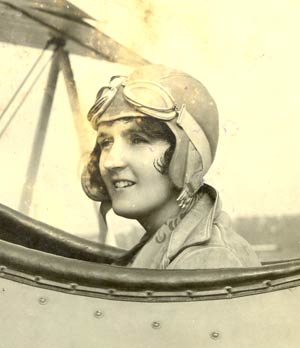 Her list included maps of every state in New England, plus Nova Scotia, Newfoundland and Ireland. She had charts of the stars, the ocean, the moon and British lighthouses. She knew which way the steamers were going, what they looked like, and what she would eat when she was hungry. Nichols was packing for Paris too. Amid the tools, equipment atlases and food stuffs, she stashed away four hats, four dresses, three pairs of shoes, two different styles of bedroom slippers and one special item: 'Evening in Paris' perfume.
"I'll see you on the other side," she told Railey.
Railey sailed to Europe by steamship on the last day of April in order to be ready for her celebratory arrival. He even made plans for her to visit the House of Commons in London, managing the press buildup in Paris and supervising the Paramount camera crew that would film her triumphant arrival. By May 22, everything was in place. "Please advise Miss Nichols," Railey wired his New York office, "that we are all set at London and Paris." Then, he waited…and waited.
Back home, the engine on the Crosley plane was completely overhauled and the passenger seats were removed. She also had the plane repainted, a bright white with gold wings. As a final touch, she renamed the ship, Akita, a Dakota Indian word that meant "to search, discover or explore." Then she was slowed by the usual delays, test flights, plane-weight problems, bad weather, and then, on June 18, landing-gear failures, which pushed her back even more.
Across the ocean, Railey was growing impatient and losing money by the minute. "The days into weeks," he said, "the weeks into months." Even worse, the endorsements he had worked so hard to procure, were beginning to slip away. Simultaneously, others back home were trying to talk her out of making the flight altogether.
The U.S. Weather Bureau was opposed to her flight, in part because Nichols was a woman. "It looks to us," one top meteorologist said, "like personal or sex competition." Nichols' brother, a navy pilot, was worried too, asking her to take more time to prepare. "Might mean your success," he told her, "even though a slight delay." Even fellow female pilots begged Nichols not to fly across the ocean.
"I guess the reason we don't want you to try is that we know there is no in between," pilot Mildred Morgan told Nichols. "You will either make it, or you won't. And what in the world is there, anyway, that is worth taking that chance for?"
But Morgan knew there was no stopping Nichols.
"Go to it, if you feel that you must," she said. "But remember that if you do, and when you do, every girl flier in the country will be praying for you every minute of the way. None of us will sleep a wink until we know that you are safe across—and the most famous woman in the world."
On the morning of June 22, Nichols awoke in her room at the Commodore Hotel. As soon as she got word that the Akita was ready, its landing gear fixed, she reported to hangar no. 6 at the airport in Brooklyn, arriving just after midday. It was hot and cloudy.
"It is time," Nichols said, "that I got going."
After her mother handed her a bouquet of flowers picked from the family garden, Nichols climbed aboard in early afternoon. She tested the engine, and then, after pronouncing the motor good, waited while a team of mechanics and bystanders pushed the plane to the north end of the runway.
In her preparations for the flight, Nichols, rediscovering her Quaker roots, had scrawled Bible passages in a personal notebook. Psalm 23: "The Lord is my shepherd, I shall not want." John, chapter 14: "If ye shall ask anything in my name, I will do it." And Psalm 121: "The sun shall not smite thee by day, nor the moon by night."
Finally, Ruth Nichols charged down the runway and lifted off into the sky. Pointing the Akita north, she was on her way. Navy Helldivers accompanied her as far as Connecticut.
By sundown she found the tiny airfield in New Brunswick where she planned to stop for the night. It didn't look good. Instead of an expansive field, wide and open, it was more like a small bowl—"a veritable trap," she thought—dropped into a valley in the middle of the hilly Canadian woods. Believing she must be mistaken, that this couldn't be New Brunswick, she circled the airfield twice, checking her maps. But no, this was it. Despite years, months, and weeks to plan, she and her team of consultants had failed to properly investigate the very first stop on the journey. Now it was too late. With the sun in her eyes, photographers waiting on the ground, and darkness coming soon, Nichols chose to land.
She came in fast, at 80 mph all the while half-blinded by the sun. Unable to get a clear view of the runway below, Nichols missed her mark, touching down halfway down the short runway. Realizing that she wouldn't have enough time to stop the plane before it barreled into the rocks at the end of the runway, Nichols hit the throttle and tried to lift off again. She managed to get back in the air, but she was too low, and the plane's propeller skimmed the ground. She ran out of time and space. The rocks shattered the undercarriage of the plane. Then the engine broke apart, the cockpit splintered, and the Akita stopped dead in the brush, jerking Nichols' body forward with great force.
In pain, she climbed through the jagged wreckage and fell to the ground with broken vertebrae in her back. Photographers descended down upon her and began snapping pictures. As bad as it was, Nichols was fortunate not to be paralyzed—or worse. "How did she ever come out of it alive?" Nichols's consultant Clarence Chamberlin asked when he finally got a chance to see the wreckage at the crash site. Chamberlin also knew it would have been hard for any pilot to land a fast plane at that little field in the bowl. The sun that was directly in her eyes had made it even more difficult. Her transatlantic dream was over before it even started.
Not only did her dream go up in smoke, gone were the book deals and magazine contracts. No lecture tours, no motion-picture plans and no more promises of big money. At this point, Nichols would be lucky just to pay off her loans. In the crash, she'd lost everything. And for months she would be bed-ridden in a plaster cast, and then a steel brace.
In the meantime, Powel, who always appreciated her persistence, had the plane dismantled, crated and shipped off for repairs. Besides, Powel didn't need the plane anyway. By then he'd bought another one, at a cost of $30,000.
Nichols recovered in time to set the women's distance record with a flight from Oakland, Calif. to Louisville, Ky., a distance of 1977 miles. And on Feb. 14 she set a new world altitude record of 19,928 feet for diesel-powered aircraft at Floyd Bennett Field in New York in a Lockheed Vega.
She also never let go of her dream to be the first woman to cross the Atlantic. By spring of 1932, she was ready to try again. With Crosley still sponsoring her efforts, she met with her rival Amelia Earhart on May 19 to discuss the hazards of ocean flying. Competitors as they were, Earhart concealed a secret as they talked. Earhart was ready to take off then and there, and took off from Newfoundland the next day, landing in Ireland 15 hours later. She became an instant celebrity, entering the pages of history while Ruth Nichols became a mere footnote.
But, Nichols refused to give up and continued in her quest to set records and cement her place in history. More bad luck came her way. As a passenger on a private flight, she was critically injured in Troy N.Y. when the plane, a Curtiss Condor, crashed shortly after takeoff.
She pressed on, and when she returned to flying a year later, Nichols went to work for the Emergency Peace Campaign. She also became the first woman pilot of a commercial passenger airline, flying for New York & New England Airways. And she continued to do big things. In 1939, she headed Relief Wings, a civilian air service that performed emergency relief flights and assisted the Civil Air Patrol during World War II. Nichols would eventually attain the rank of lieutenant colonel in the Civil Air Patrol. Following the war, Nichols became involved in other humanitarian efforts, using her celebrity to bring attention and raise funds for benevolent causes. She organized a mission of support for UNICEF, including piloting a round-the-world tour in 1949. In the 1950s, she served as director of women's activities for Save The Children, director of the women's division of the United Hospital Fund and field director for the National Nephrosis Foundation.
In 1958, after lobbying the United States Air Force for permission, she co-piloted a TF-102A Delta Dagger and reached 1,000 mph at an altitude of 51,000 feet, setting new women's speed and altitude records at age 57.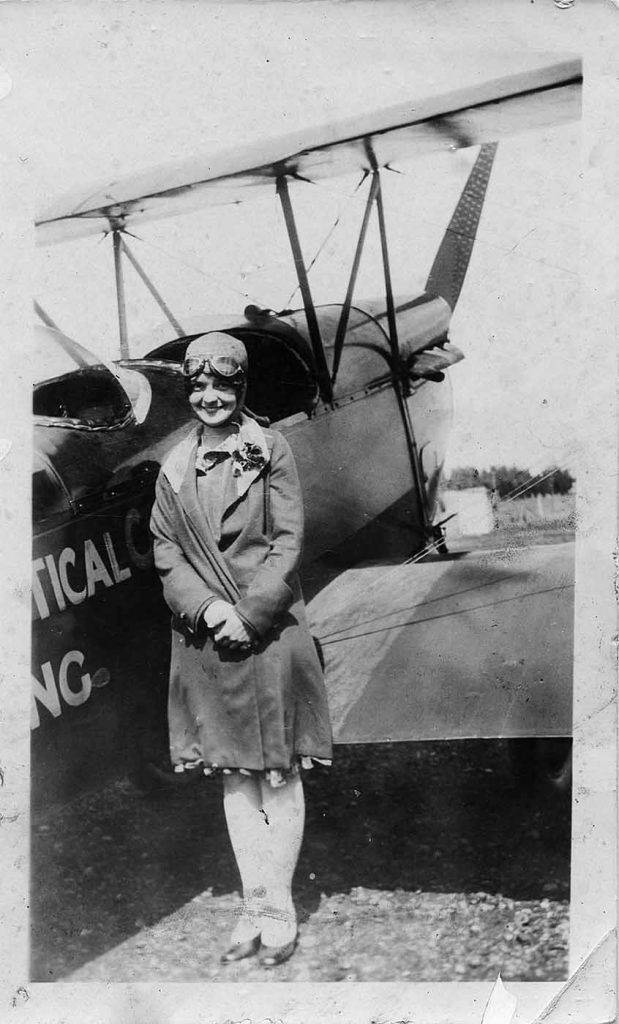 Final Notes:
Nichols, after her graduation from the Masters School — a private preparatory school for women — attended Wellesley College, studied pre-medical, and graduated in 1924. While a student at Wellesley, she secretly took flying lessons, and shortly after her graduation, received her pilot's license. She also became the first woman in the world to obtain a hydroplane license.
After such a fascinating life, her journey ended sadly. Suffering from severe depression, she died of a drug overdose at her home in New York City on Sept. 25, 1960. Her death was ruled a suicide. She was interred at Woodlawn Cemetery in the Bronx, N.Y.
Despite her tragic end, her story is worth preserving. Her courage and tenacity are admirable beyond words, and we salute this brave and bold pioneer of early aviation, who made history in a Crosley. #FlyOnMissNichols #Respect #Integrity #Honor #Leader
CONTACT:
Don Radebaugh
Find the History Mystery Man on Facebook and YouTube.
Sources:
Fly Girls: How Five Daring Women Defied All Odds and Made Aviation History, by Keith O'Brien, copyright © 2018 by Keith O'Brien, Houghton Mifflin Harcourt Publishing Company.
Crosley: Two Brothers and a Business Empire that Transformed the Nation, by Rusty McClure with David Stern & Michael A. Banks, Copyright 2006.
TheDailyBeast.com
en.wikipedia.org
Google+