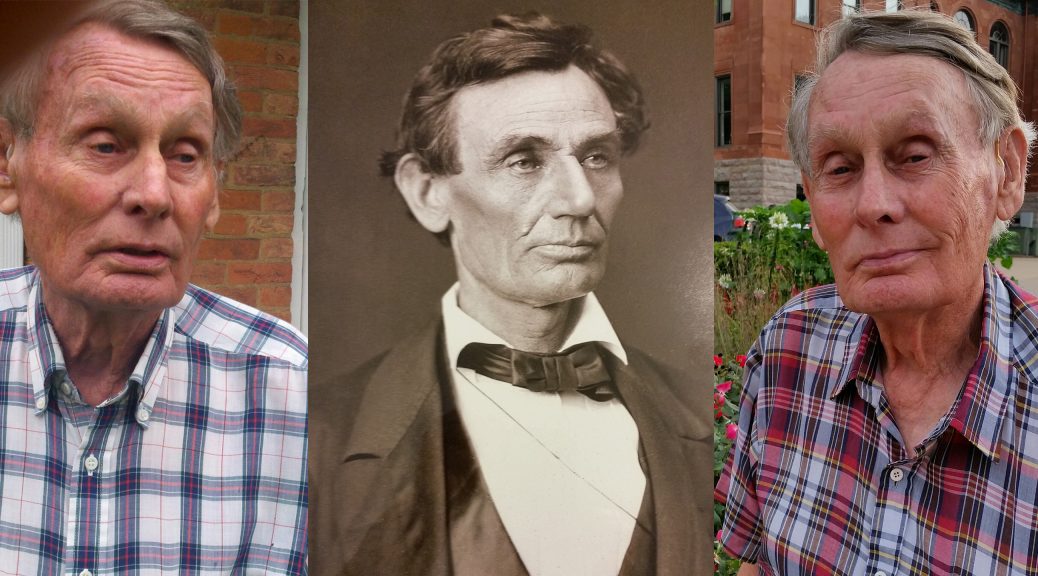 Remembering Long Nine Museum curator, Lincoln lookalike & good friend John Eden
Remembering Long Nine Museum curator, Lincoln lookalike & good friend John Eden
ATHENS, Ill. (March 1, 2019) — I had already known him for 10 years when it all of a sudden dawned on me. We were chatting inside the Long Nine Museum, and there, before my very eyes, was Abraham Lincoln, or the nearest lookalike I had ever seen. And without even trying.
His eyes, chin, cheekbones, mouth, ears, nose, forehead, the construction of his face…he looked just like Lincoln! Sure, there are tons of impersonators out there…taller specimens with the perfectly trimmed, trademark Lincoln beard, black suit, stovepipe hat…the whole deal. But if you cut away the beard and take away the hat, then what do you have? … just another guy that doesn't really look like Lincoln. And that's the thing…no one looks like Lincoln. Only Lincoln looks like Lincoln; it's just one of the things that set him apart from anyone else. No one looked like him. No one except John Eden, the curator/owner of the Long Nine Museum in Athens, Ill.
Not even Daniel Day-Lewis, who played Lincoln in Steven Spielberg's movie "Lincoln," really looks like Lincoln; not if you take a way the beard and Hollywood make-up artists. Take away the props and you've got what you've got with all the rest…just some guy trying to look like Lincoln. John Eden never had to try…he was the closest in appearance to our 16th president than any human I had ever put my eyes on.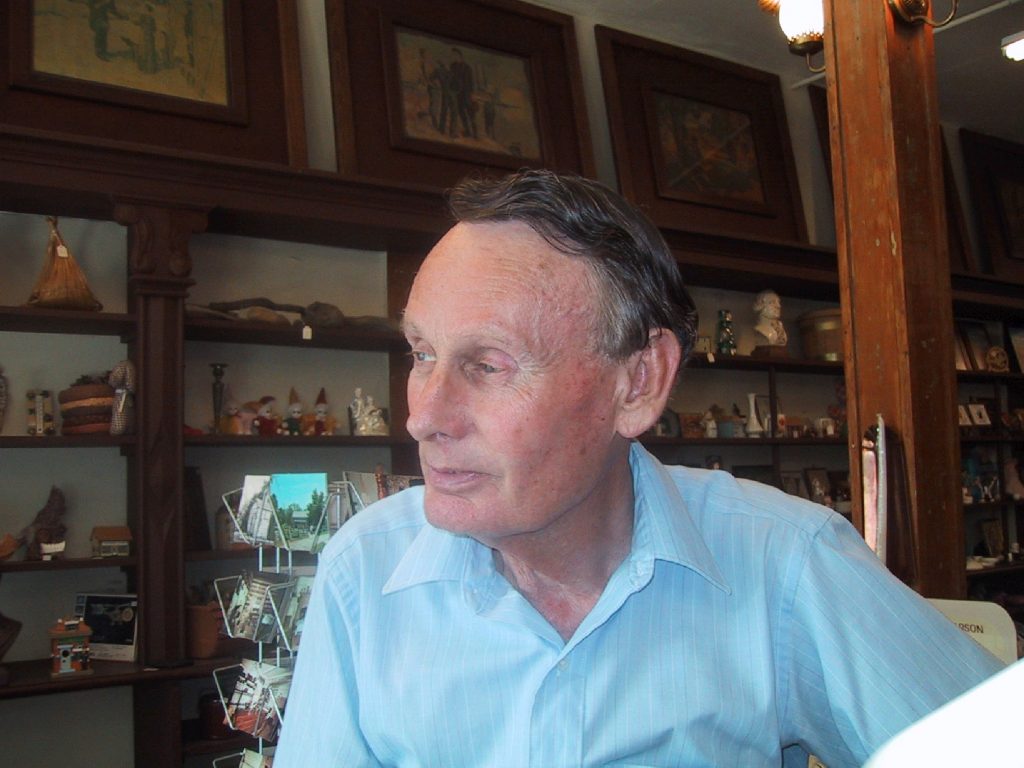 It wasn't just that he looked like Lincoln. He lived and breathed Lincoln. Maybe that's why he took on the enormous task and financial risk of saving Colonel Matthew Rogers' general store and post office in Athens, the little town he grew up in. If not for John Eden, the building arguably would not have survived. No one wanted it; no one cared enough…not in Athens, Illinois anyway, or anywhere else for that matter. No one except John. The building was deteriorating badly and going downhill in a handbasket. But fortunately, he bought it and got right to work, from the bottom to the top. He shored up the foundation, reinforced the building with steel supports from below, poured a really nice cement basement floor to hold artifacts, rebuilt everything that needed rebuilt, cleaned it up, roofed it, painted it and turned it into a museum, and a really nice one at that. He put his life savings into it, and every ounce of his time and energy. He also renamed the building the Long Nine Museum. It made perfect sense considering the building's most famous and important habitant.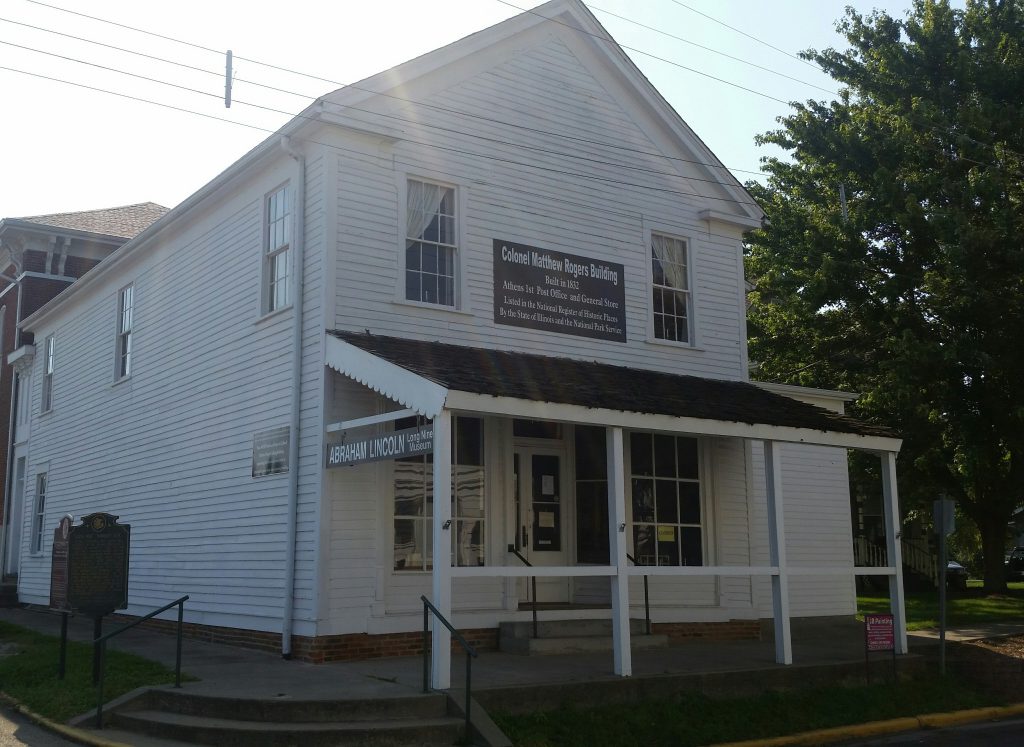 "Sangamon County will ever be true to her best interest and never more so than in reciprocating the good feeling of the citizens of Athens and neighborhood," said Abraham Lincoln on the night of Aug. 3, 1837.
The name of the museum came from the nickname given to Lincoln and eight others who represented Sangamon County in the Illinois General Assembly during the 1836-37 legislative session. All nine men were at least six feet tall and shared similar political principles, hence the "long nine" appellation.
The nine consisted of both senators and representatives: John Dawson, William F. Elkin, Ninian W. Edwards, Job Fletcher, Archer G. Herndon, Lincoln, Andrew McCormick, Daniel Stone and Robert L. Wilson. Together they worked to move the state capital from Vandalia to Springfield, which is near Athens.
In 1837, the General Assembly approved moving the state capital, prompting grateful citizens of Athens to honor the "long nine" members at a public banquet. The August 3 dinner was held on the second floor of this restored building, with about 100 people attending. And it was then and there where Lincoln gave his famous toast.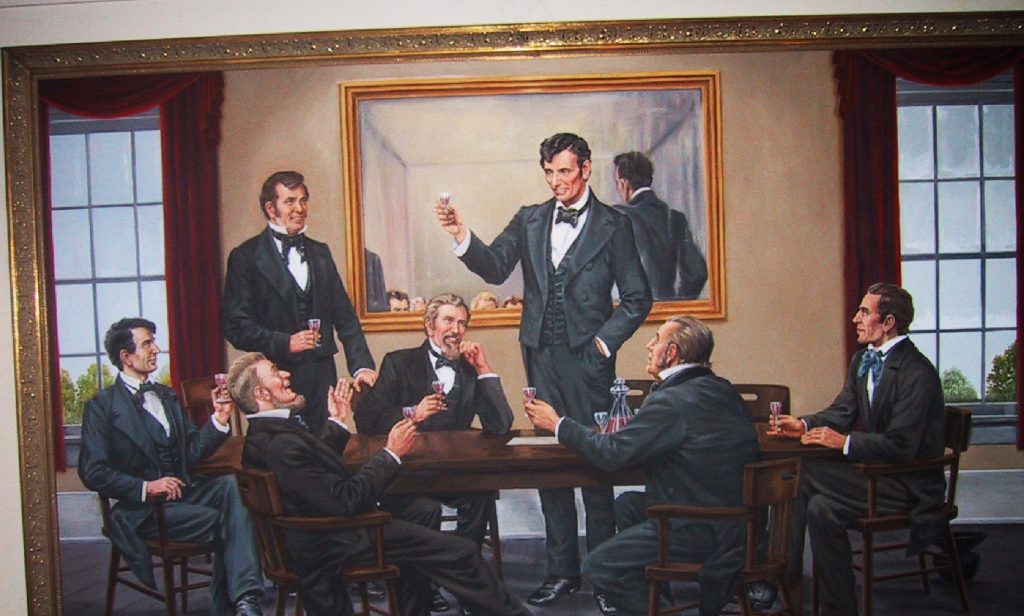 The building's original owner Matthew Rogers was a veteran of the War of 1812 and settled in the area around 1820. He erected this frame building to keep a general store and the town post office. Lincoln was already familiar with Rogers' building. As Postmaster of nearby New Salem, Lincoln delivered mail to Rogers' post office in Athens regularly. It's also widely known that Lincoln surveyed the town of Athens. In fact, in the intersection just outside the building, you can still see a base stone survey marker Lincoln left in the road on November 4, 1834, when he helped relocate the post road to Athens.
In July 1836 Lincoln began a series of 10 speaking engagements in Athens and nearby communities as part of his re-election campaign for the Illinois legislature. In 1841 he represented Rogers in a bid to repossess the general store building when the second owner defaulted on the payments.
As history passed, the building deteoriated to the point where if someone didn't come to the rescue soon, it would have to be demolished. That someone was Athens' own John Eden. Restoration of the building began in 1972. It became a museum with a post office and general store on the first floor. Upstairs, visitors can see dioramas depicting the history of the building and Lincoln's early connections to the area. The banquet room features a large oil painting by the late artist Lloyd Ostendorf showing Lincoln in formal dress toasting his colleagues. The basement contains some period artifacts.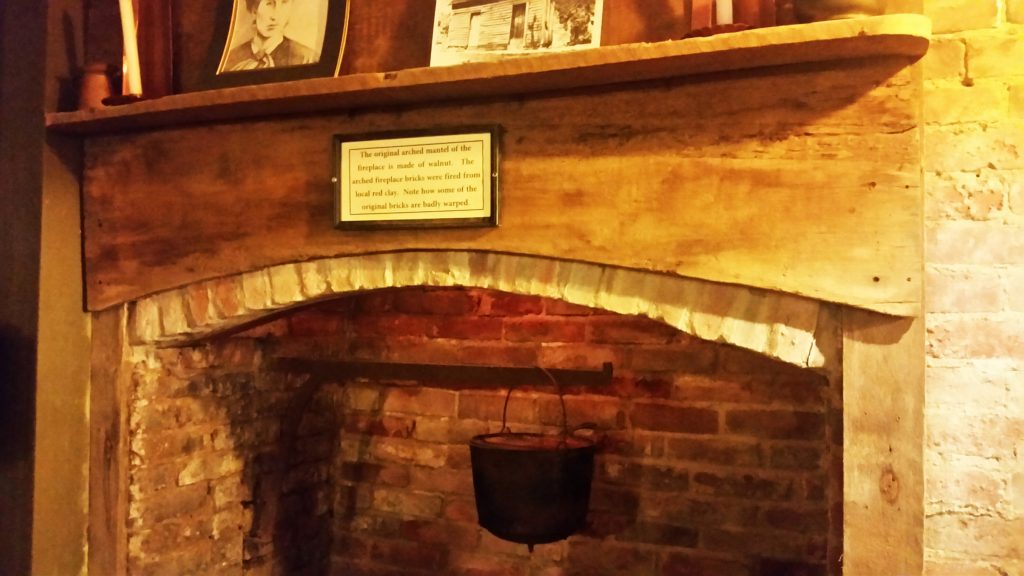 John Eden made it all happen. No one cared about that building the way he did. He was also the tour guide when you came through the front door. It was his pride and joy. As he was getting up there in years, he tried in vain to secure a buyer. It had to be someone of course who would preserve the building. He knew he couldn't take care of it forever, so he kept trying to sell. No takers.
What the museum will be going forward remains an open question. Eden died on April 8, 2018 at the age of 84. John and I had become great friends over the years, connecting with our mutual interest in, and respect for, Lincoln. I also appreciated what John had done in saving another important artifact connected to our greatest president. We would meet in Athens or Petersburg every August, have lunch or dinner and drive around while I listened to his stories. This went on for 20 years, and it never got old; I loved it. He showed me the tiny house he and his seven or eight siblings grew up in on Washington Street in Athens. I couldn't believe that all those kids were raised in that little brick box. He showed me the little, muddy watering hole they would swim in as kids. He said they were dirt poor, but they just never knew it. I saw him last in August of 2017. I was in town on business, as I had been annually over the last 22 years. He was recovering from a fall he had taken. His wife had just had a stroke. He was weak, very weak…his hearing nearly gone. With tears in his eyes, he thanked me for being such a good friend over the years. He always meant a lot to me; now I came to know how much my friendship meant to him. I adored the man and our meetings were something I treasured and looked forward to all year long. Now, he's gone. Yet, his legacy remains…the Long Nine Museum. We can only hope his legacy will be preserved and cared for the way he did. Tall order.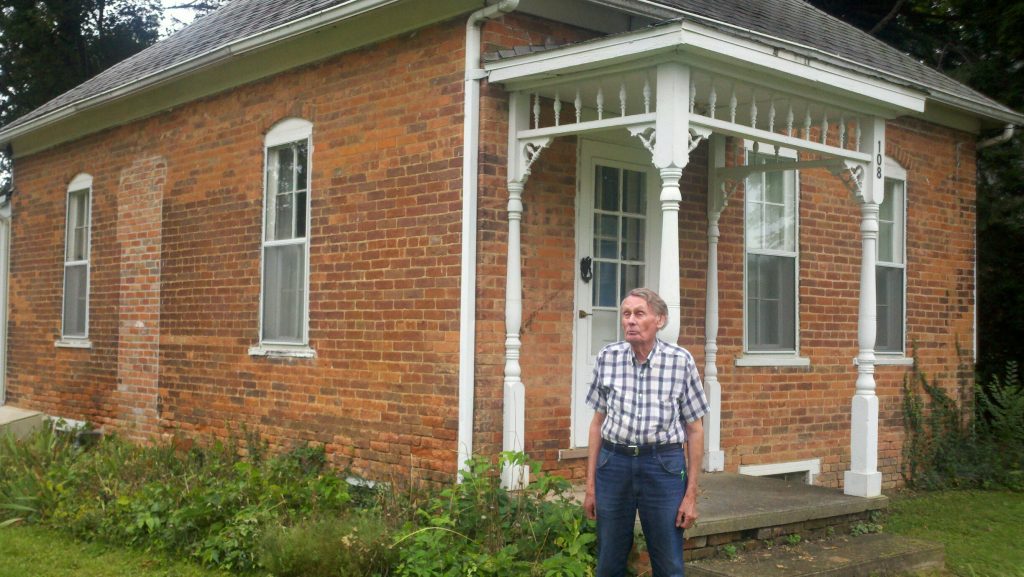 When Lincoln made his toast 180 years ago, it was directed toward the good citizens of Athens. We can add another "good citizen" to his toast…the great man who saved the building where Lincoln made history. So, here's a toast to you John, one long in coming, but one so well deserved.
"John Eden will ever be true to the Long Nine Museum and never more so than in dedicating his life to its restoration and preservation. The citizens of Athens and the world will forever benefit from your good will, financial commitment, perseverance, dedication and hard work. Here's to you ole friend," said me…
Final Thoughts: The Long Nine Museum is unique because, it's not only a legacy left behind by a great man, it's the very signature of that great man, a kind and gentle soul. It covers a very important chapter in Lincoln Lore…the often forgotten story of Colonel Rogers and how important he was to Lincoln's formative years. John Eden literally created that museum on his own. There were no communities that stepped in for support, no institutions, no civic groups, no investors, no corporations, no coalitions, no associations…it was all him with whatever volunteer help he could find, which makes the museum that much more precious. It was always the best day ever when we'd pile into one of John's old junkers and drive around on skinny roads through the nearby prairie fields. I learned things about local Lincoln Lore that you can't find in a book or on the internet. And there was always the museum that he'd let me wander around in at my own pace, on original floors where Lincoln walked. The dioramas upstairs were so interesting…beautifully crafted figures depicting scenes that helped explain everything…the one with Lincoln, holding books, leaning against Rogers' log house talking with Ann Rutledge is especially interesting. Each scene has the old-fashioned speaker…push-the-button and some pleasant local voice talks back, describing each diorama. It was sooo John…every inch of that place. #RIP
Don Radebaugh
Find the History Mystery Man on Facebook and YouTube.

Google+