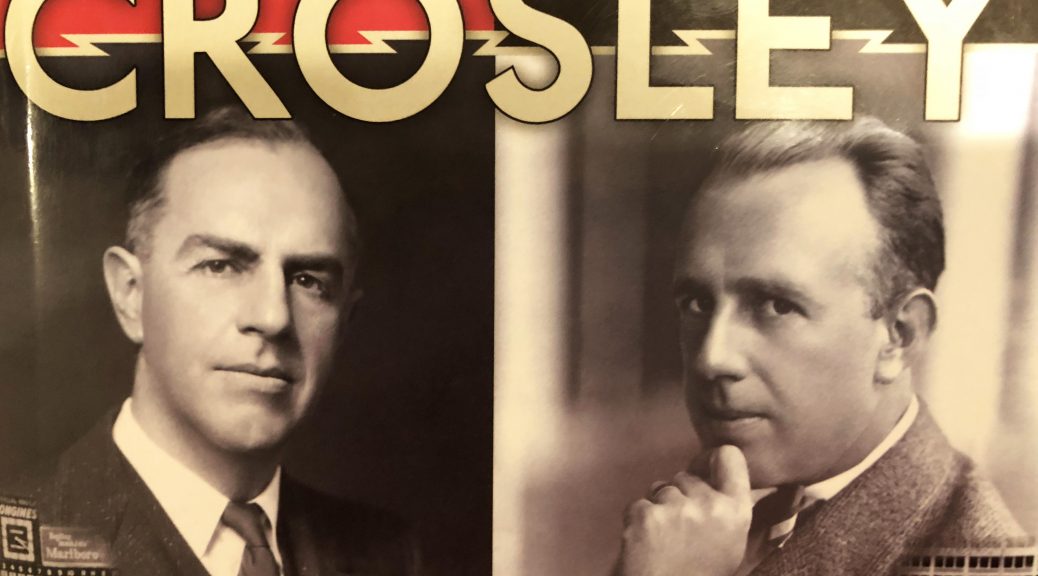 The Crosley Brothers, part 8, plus epilogue
The Crosley Brothers, part 8, plus epilogue
With so much unspeakable tragedy all around, Powel, now 67, did what Powel knew how to do. He picked himself up off the ground and moved on to the next thing. It wasn't exactly a new thing; but it was something near and dear to his heart – his very own Cincinnati Reds. With time on his hands, he began traveling with the baseball team, often chartering private planes for all. It seemed to serve him well on the heels of so much personal tragedy and disappointment. If nothing else, it was great medicine for a man who had been through so much. Ironically, as the 1950s raced forward, Americans were at last discovering the benefits of the small car. By 1958, the Volkswagen was taking the world by storm. European imports began chipping away at the American marketplace. If Powel was dying inside as a result, it must have been, on some level, comforting to know that his dream of the small compact car was not in vain…that his vision was not only true and good but made sense. Unfortunately for Powel, his vision was ahead of the times.
By the summer of 1959, Powel Crosley was wearing out. Whatever burned inside him for so many years was fading, and his health was visibly declining. And whatever enabled him to pick himself up off the ground after life kept knocking him down…that was fading too. If not for the Cincinnati Reds and what was left of his family, it's arguable that he'd ever find the energy to get up at all. He had his first heart attack in October of 1960. Doctors continually urged him to slow down. Powel Crosley would have none of it. In January of 1961, Powel was soon off to Tampa, Florida for spring training. He bought a new Studebaker Lark and modified it to accommodate his hunting gear. Slowing down was simply not in Powel's vocabulary. In February, he collapsed again…another heart attack. He was soon back in Cincinnati, out jogging one day along Kipling Avenue. His brother Lewis drove up alongside and exchanged the normal pleasantries. It was the last time the brothers would see each other. On the morning of March 28, 1961, Powel collapsed in his living room at Pinecroft. The ambulance was there within minutes. It didn't matter; Powel Crosley, the Henry Ford of Radio, was already gone.
After Lewis Crosley buried his brother at Spring Grove Cemetery, he got back to what he always wanted…a simple life of farming with his family, which is exactly what he did in the twilight of his days. He lived on for another 17 years. In the spring of 1977, doctors discovered that he had acute leukemia. They gave him three months to live. He defied the odds and lived on for another year and a half. On November 6, 1978, Lewis Crosley slipped away. He was buried alongside his brother at Spring Grove Cemetery.
Epilogue
Through all the ups and downs and all arounds, Powel and Lewis Crosley endured. Their incredible story leaves behind great lessons regarding the way they did business. After seeing their parents suffer through the Panic of 1893, they learned early on that the road to success was to not be buried in debt, especially when the next financial crisis hit. They built all their businesses on cash, not credit. They built a radio empire, built giant factories, created the most powerful radio station in the world, changed the course of World War II, bought the Cincinnati Reds and so much more. And, they paid cash for everything. Unlike most Americans, The Great Depression virtually had no effect on the Crosley Corporation; they marched on as if it wasn't even there. In 1921, Powel Crosley learned how to build an empire from a book, the A.B.C. of Radio. In the decades that followed, Powel Crosley taught the world the A.B.C. of Building a Successful Business.
With the death of both Powel III and IV, there simply was no one at Crosley to fill the shoes of either Powel, Jr. or his brother Lewis. AVCO, which bought Crosley in 1945, hired 26 men to fill the shoes of Lewis Crosley. They failed. They never found anyone to replace Powel. In 1956, AVCO closed down the Crosley division altogether. The old Crosley Building on Arlington in downtown Cincinnati still stands today. Although badly dilapidated, it remains a testament, a statue if you will to Powel and Lewis Crosley who pioneered radio waves that still reverberate around the world.
It almost sounds like the story ends here. Actually, it's just beginning. Enter Louisville, Kentucky's Bo LeMastus, the Chairman and CEO of Crosley Brands in the 21st century. Hang on tight…it's time to go for another ride…
Source & photo credits: Crosley, by Rusty McClure, Copyright 2006
Find the History Mystery Man on Facebook and YouTube.
Google+