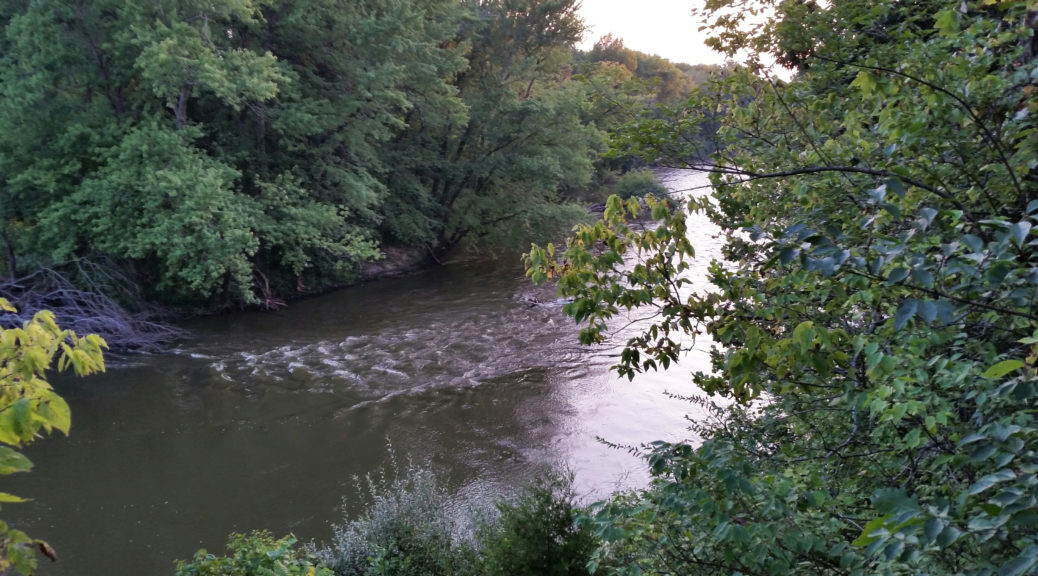 Welcome to Lincoln's first and long lost homestead in Illinois
Welcome to Lincoln's first and long lost homestead in Illinois
By Don Radebaugh — There isn't much activity at the ole Lincoln Trail Homestead State Memorial (LTHSM) park these days. It's all but abandon; at least it sure seems like it. With Illinois funding for state parks on the back burner in a state that's already financially broke, I'm not sure our 16th President would approve of the current state of affairs in his beloved Illinois.
What was once a bustling state park is now overgrown, rundown and unkept, unfortunately. That's probably why few people visit the park anymore. Yet I'm still drawn to the place where Lincoln spent just one year of his life before he set out on his own…down a frontier path that eventually, remarkably led him to the White House where he steered America through four brutal and bloody years of Civil War.
But it took all these places, pieces and parts to produce President Abraham Lincoln…each critical to the other, and to the next…all part of the master mold that would form who I believe is America's greatest President.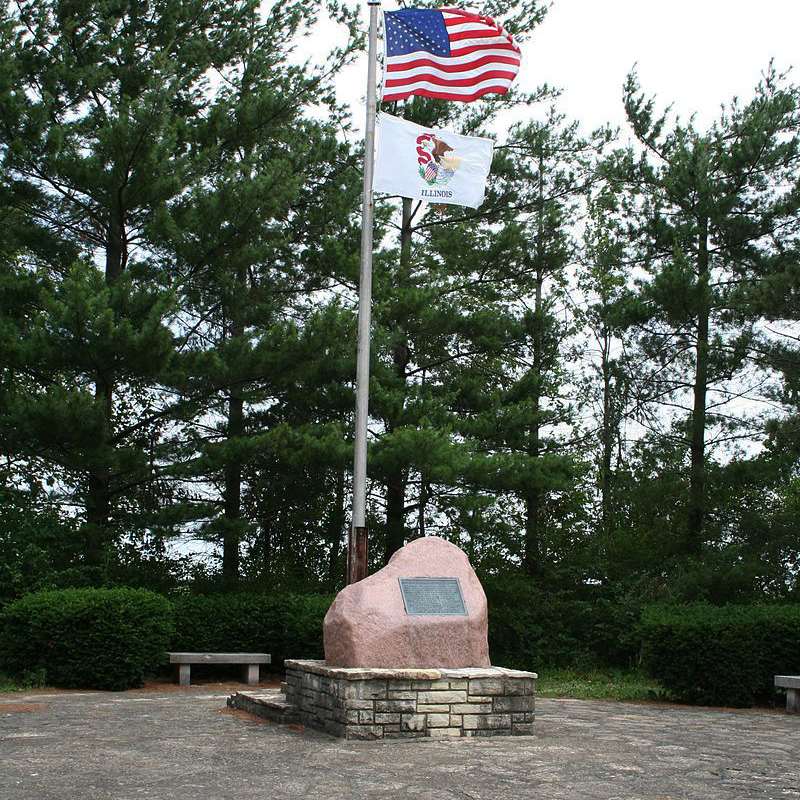 Each year in late summer, I begin my annual pilgrimage into Illinois, and lately, I've been swinging through the LTHSM park, located just outside of Decatur, Illinois. It's actually got a spooky feel to it, yet irresistible for a Lincoln lover like myself. Typically, I have the place to myself, which is fine by me. I appreciate the solitude because it affords me the chance to pause, ponder and reflect without interruption. It's actually a beautiful park if you can look past its unpolished look. Located on big bluff — a cliff actually — overlooking the Sangamon River, I can easily imagine young Lincoln scaling the river below to get to the other side during one of the most brutal winters in Illinois history to search for food for his family.
The year was 1830. It was March when the Lincolns and their extended family arrived at this particular site on the promise of more fertile grounds and a fresh start. The Lincolns traveled from their Spencer County, Indiana homestead where they lived for 14 years…before setting off on their next adventure, which was always more hardship than anything else. There was a lot to leave behind in Indiana. It was there that Lincoln's beloved mother Nancy Hanks Lincoln died of the "Milk Sick" when Lincoln was just 9 years old. It was also where Lincoln's only surviving sibling, his older sister Sarah, died in childbirth in 1828. The Lincolns were trying to leave behind some very painful memories and start anew.
Lincoln had just turned 21 in February when the Lincolns arrived in Decatur. The family immediately began the back-breaking labor of clearing the land to plant crops. They also worked simultaneously on building a cabin for the 12 people who would eventually occupy it. By now, Lincoln was yearning to break free from the drudgery of farm labor and set out on his own, and had already started working on a master plan that would do just that.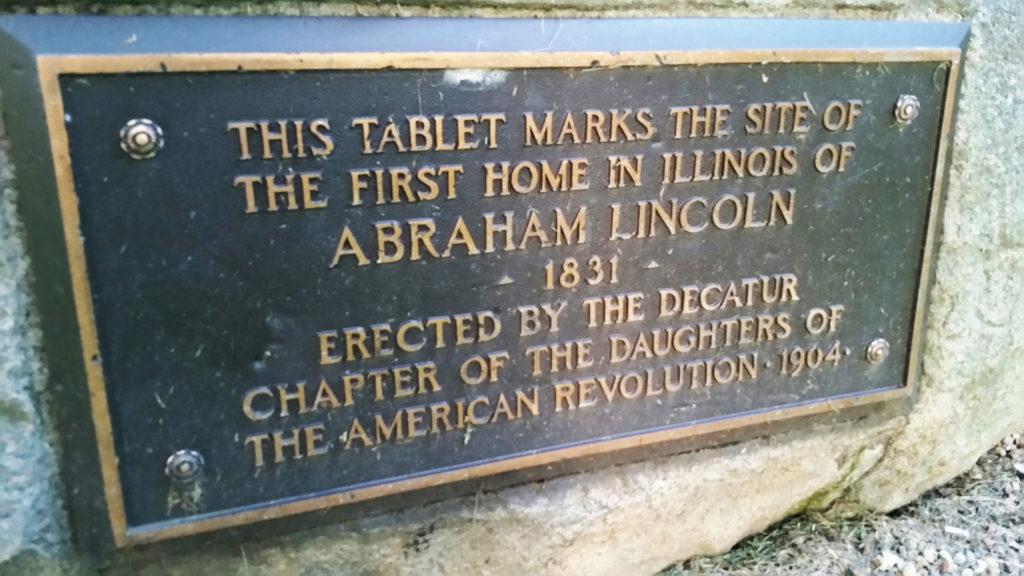 And no sooner than the cabin was constructed, Lincoln's parents, Thomas and Sarah, had had enough of their new homestead, made miserable with the "ague," a term used to describe a malady of chills, fevers and sweating. But by the time their health improved, winter arrived and changed their plans. The winter of 1830-1831 proved to be the most severe on Illinois record, causing the Lincolns to use up their already depleted stores of food. It got so bad that Lincoln crossed the frozen Sangamon River so he could reach the Warnick cabin to beg for spare food. According to the Warnick family tradition, Lincoln partially fell in the Sangamon, getting his feet wet. By the time he reached the Warnick cabin two miles away, his feet were frozen. Over the next weeks, Mrs. Warnick applied a mixture of "goose grease, skunk oil and rabbit fat" to Lincoln's feet while he recuperated at the Warnick cabin.
Once winter finally broke, the Lincolns changed their plans on returning to Indiana and migrated to Coles County, Illinois where Thomas would build his final homestead. However, this time, he would have to do it without his son as Lincoln was about to embark on a great adventure down the Mississippi River, taking a flat boat full of produce down to New Orleans, a journey he began in the spring of '31, after the big thaw.
On his way down the Sangamon just northwest of Springfield, headed toward the Mississippi, their boat got stuck on a mill dam just below the newly-formed town of New Salem (Ill.). Lincoln then scaled the bluff above and made his way into New Salem where he borrowed an auger. With the townsfolk following Lincoln down off the bluff to watch all the excitement, Lincoln, the leader, took charge of the situation. He then shifted the cargo forward, drilled a small hole in the bow of the boat, letting the water drain out and thus lifting the boat up and over the dam and back on its way. So impressed was one Denton Offutt, who owned a general store in New Salem, that he proclaimed that when Lincoln returned he would hire him as his storekeeper. On that promissory note, Lincoln did return to New Salem and late spring 1831 and set up shop in Offutt's store. He was now officially and completely on his own and dependent on himself. Lincoln spent some of the most formative years of his life in New Salem…6 years total before he would venture off to Springfield where he began his experiment as a lawyer. His New Salem experience was fascinating to say the least, but too much to cover here…that'll be its own unique chapter here at HistoryMysteryMan.com.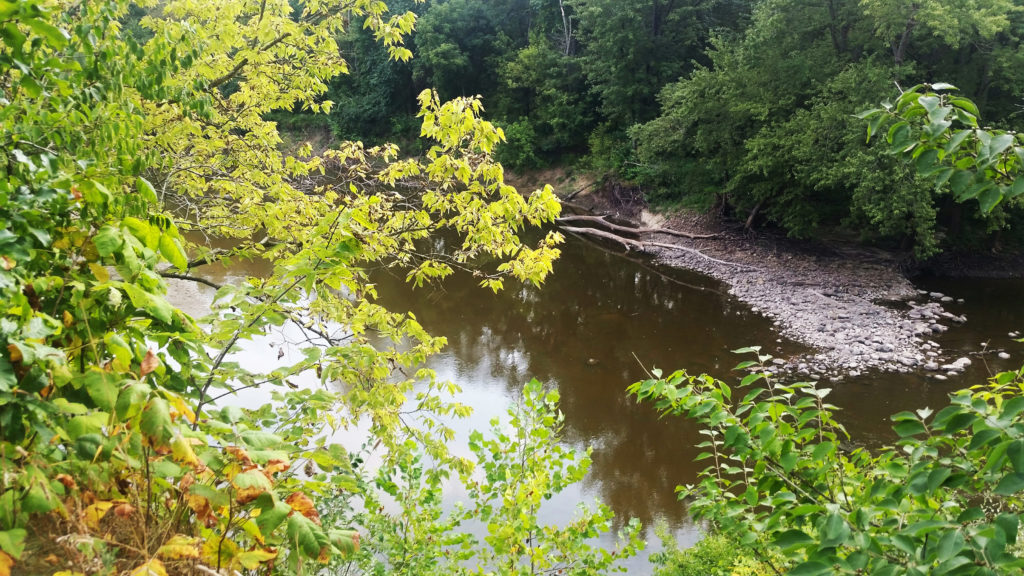 Lincoln's life would also wander back through Decatur in 1860 when his cousin John Hanks and Richard Olgesby came to the old Decatur homestead to collect the two fence rails that would be used at great effect at the 1860 Illinois Republican State Convention in Decatur. Hanks helped carry in the rails that proclaimed Abraham Lincoln as the "Railsplitter Candidate," a reference that stuck with Lincoln through his ascendancy to the Presidency and a nickname that is still well known to this day. After Lincoln's death in 1865, John and Dennis Hanks came out to the site in Decatur and carefully disassembled the cabin and numbered the logs. They then took it all over the country on exhibition. The cabin was supposedly later sold to an English group but was lost at sea crossing the Atlantic.
Not sure if I'll make it back to Lincoln's ole homestead in Decatur on my upcoming trek across Illinois…there's always something else to discover. Of course, I say that every year, and each time I seem to find myself alone in that deserted place with my feet dangling over the bluff, staring down on the Sangamon River looking for a flat boat with some tall lanky kid at the helm.
@DonRadebaugh
Google+